Learn to fly in Goodyear, Phoenix
FLY. Goodyear, previously known as Buckeye Flight Experience, has been training pilots in the Phoenix Valley for more than a decade. In 2013 we moved to the Goodyear Airport, from Buckeye Airport, to be closer to our students and to provide a quality atmosphere for our students to learn. We offer single-engine and multi-engine flight training for those looking to learn to fly for fun or those wanting to pursue a career in aviation. Plus we also offer multi-engine time building for those looking to build multi-engine time for their careers.
Am I just a flight number?
Absolutely not! While we're a smaller school, or perhaps because we are, we can give very personalized and tailored tuition that fits both your lifestyle and budget. We believe that flight training should not only be rewarding, but fun as well. To help make your pilot training a great experience, we have both male and female, younger and older instructors.
We're definitely not a pilot mill. We take pride in providing individual, custom flight training to all our pilots. While we complete some classroom instruction, we find that full-time ground school flight instruction doesn't necessarily suit everyone's schedule. So we have all students enroll in online ground school which gives the flexibility to learn wherever and whenever, providing there's an internet connection.
How much does it cost to learn?
This is a great question and is one of the questions we answer on our learn to fly FAQs page. However, the average student pilot, starting from scratch, can expect to pay around $12-13,000 for their private pilot license. We'd be happy to talk more about the factors affecting flight training costs, for private pilot license through to our multi-engine time building.
Need Financing for Your Flight Training?
Fly Goodyear offers great pilot training financing through Flight Training Finance. Don't let your finances slow down your path to an aviation career. Repayments start as low as $200 per month. Make your payments on time and get a cash interest refund of up to 25%!!
Ready to start your flight training, or want to know more? Give us a call, or complete a quick contact.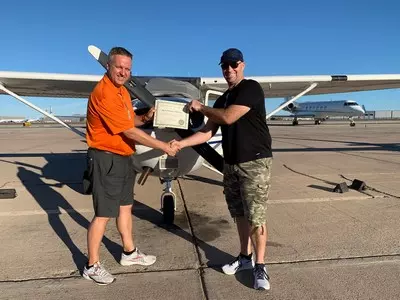 YOU COULD BE SMILING TOO!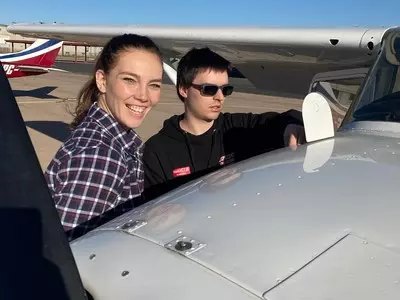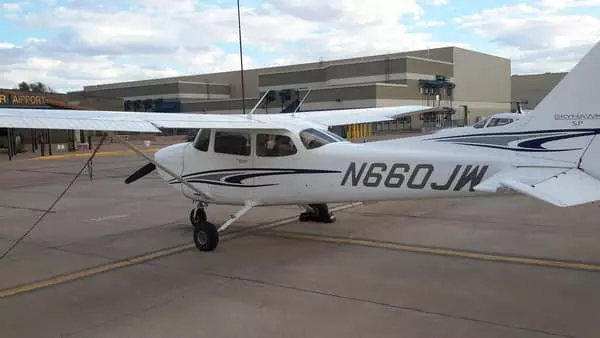 Single Engine Flight Training
Fly Goodyear offers both Part 61 and Part 141 training for ASEL (Airplane Single Engine Land). What is the difference between training under Part 61 v Part 141? Great questions! You can get a brief overview of Part 61 v Part 141 here. Quickly, though, both syllabuses require students to meet exactly the same standards prior to applying for their flight test. Part 141 offers a more rigid syllabus and, in some instances, lower flight hour requirements, whereas Part 61 offers more flexibility in how training develops.
This is a very brief and generalized summation of the differences, and, before making a decision, it is recommended you do more research into the differences, and how one style may benefit a student over the other. Even better, talk to us and we'll guide you!
Single engine flight training Fly Goodyear offers
Private Pilot Certificate
Instrument Rating
Commercial Pilot Certificate
Certified Flight Instructor (CFI)
Certified Flight Instructor Instrument (CFII)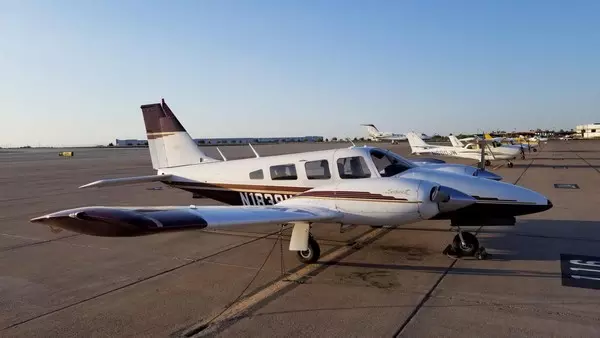 Multi Engine Flight Training
In addition to its fleet of Cessna 172s for ASEL flight training, Fly Goodyear also has a Piper Seneca II (turbocharged) available for those students wishing to obtain their Multi Engine (ME) rating. This may be purely for their own benefit (perhaps they own, or are looking to own, a twin engine aircraft), or perhaps they are looking towards a career in the airlines. Whatever the reason, we can help!
Generally, we would recommend that you complete preliminary training (up to whatever level suits your needs - we can talk with you about that when you come in or phone) in an ASEL aircraft. Why? Because that's the cheapest route to get you flying! Once you've reached the level you desire or need, then complete a ME add-on to transition to multi engine aircraft. Looking for multi engine time building? We can help with that too! Call us now!
Multi engine flight training Fly Goodyear offers
Private Pilot or Private Pilot ME add on
Instrument or Instrument ME add on
Commercial or Commercial Pilot ME add on
Multi Engine Instructor (MEI)
Multi Engine Time Building